Item: Show your pride or interest by displaying one of our professional hand finished vinyl die cut decals! Our one time use sticker has a "2D" effect with no background as you can see in our photo which is classier than printed decals. You can easily apply to most any interior or exterior clean dry smooth surfaces.
Size: This decal measures roughly 9 inches x 2 inches overall or 22.86 centimeters x 5.08 centimeters overall. We show our decal on the rear of a very small car. Please go by the measurements we have provided and not what size you think it looks like in the photo.
USA Shipping Only: We ship using the United States Postal Service.
Colors: We offer color options as you can see in our euro style butterfly photo collage. You can see these are one single color die cut decals so your background color shows through. Actual color shade of your decal will vary from what you see due to different device settings.
Application Tips & Video: Clean and dry your surface. All grime, wax, window treatment or dirt must be removed for decal to adhere. -- You may want to use an alcohol pad to do a final cleaning on your surface before applying. -- Decal is not reusable and can only be applied once. -- Please only apply when temperature is 60F-80F/15C-25C degrees or adhesive will not work. -- Do not apply in direct sunlight or on a windy day. -- Do not allow decal to get wet for 24 hours. -- If on a vehicle do not scrape ice or snow near the decal as it may get pulled up. -- Air bubbles may be present but may go away after a couple of days. If not pop with a needle. -- If on a vehicle we always recommend placing on a window. -- Never place decal on a heated surface due to fire hazard. -- Application to any surface is at your risk and we are not responsible for any damage.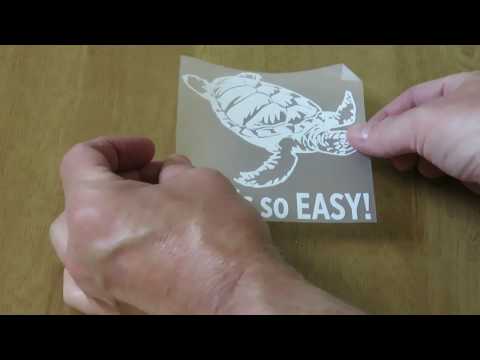 How to apply our vinyl decal. - YouTube